Special media
For getting the desired effect in mass finishing
We work with a range of special media to ensure your workpieces look exactly how you want after processing. This helps us achieve the perfect processing result for you, regardless of whether you require pressure or fine deburring.
Blasting medium – For pressure deburring and ball burnishing
For workpieces that require pressure deburring and ball burnishing, we mostly use steel balls with diameters ranging from 2.5 to 5.0 mm, along with satellites and pins. These are available in various stainless steel finishes, depending on the required processing results.
Glass balls – For light and gentle fine deburring
As glass balls are less prone to jamming, they are ideal for gentle fine deburring of complex parts, including those with internal contours. We use glass balls measuring between 2 and 10 mm in diameter, depending on the workpiece and the required processing result.
Granulate – For drying fully processed workpieces
Once your workpieces are fully processed, the best way to dry them is using a heated vibrator filled with corncob shot or wood/plastic granulate. The granulate also cleans the parts of any clinging abraded material. Corncob shot, for example, combines good drying with a polishing effect. Trowapol granulate keeps your workpieces free of residues.
Separating balls – For uniform processing of all parts
Washers and other thin, flat parts tend to often stick together, preventing uniform processing. Our separating balls ensure that workpieces like these do not stick together.
The benefits at a glance
Blasting medium for pressure deburring and ball burnishing
Glass balls for light and gentle deburring
Granulate for drying and cleaning
Separating balls for uniform trowalizing
Technical Specifications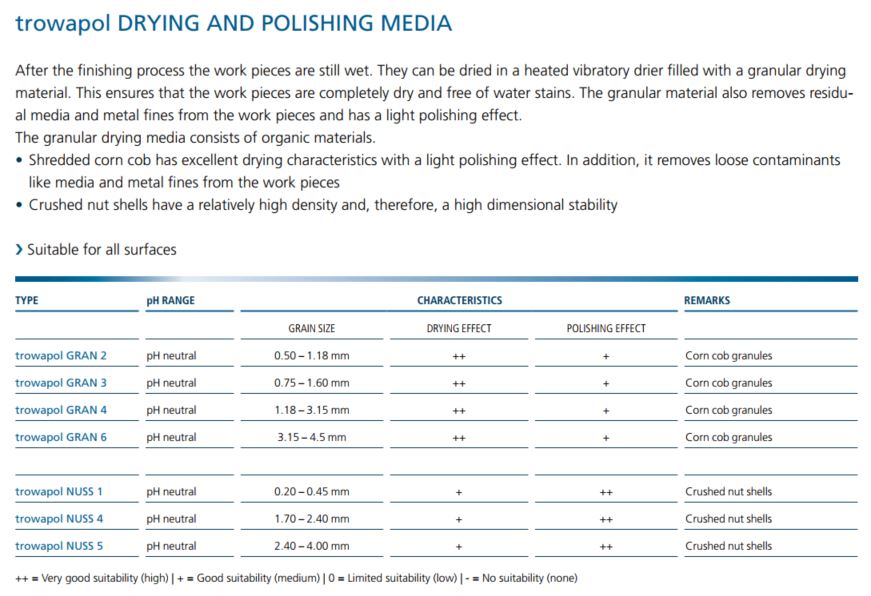 Download table
Links