ZA peeling centrifuge
Fully automatic centrifugation for cleaning your process water
The PLC-controlled peeling centrifuges of the ZA range are your reliable aid for fully automatic process water cleaning. The sludge is separated in a rotating drum and automatically peeled off into a sludge tank. You can set the cleaning cycles individually.
Modular design for individual solutions
The ZA range features a modular design, allowing you to flexibly adjust it to your needs. Select the dirt and process water tank, available in a range of sizes, as well as the additional process water pumps, dosing units or a heat exchanger, suitable for both the ZA 04 and ZA 06 configurations.
The benefits at a glance
Centrifuges with up to 2,417 times the acceleration of gravity
Separation of oil and very fine abraded material < 1 μm through the addition of flocculant media
PLC for fully automatic operation
Two configurations:
ZA 04 with a cleaning power of 1,000 l of process water per hour
ZA 06 with a cleaning power of 2,000 l of process water per hour

Technical Specifications
| | ZA 04 | ZA 06 |
| --- | --- | --- |
| Capacity (l/h) | 1,000 | 2,000 |
| Sludge volume (l) | 14 | 28 |
| Centrifugal rating (g) | 1,920 | 2,417 |
| Mud water tank (l) | 800 | 1,500 |
| Process water tank (l) | 400 | 1,000 |
| Drive system | direct drive | v-belt drive |
| Overall dimensions (mm) (LxWxH) | 1,700 x 2,500 x 2,100 | 2,100 x 3,000 x 2,350 |
| Connected loads (kVA) | 17 | 17 |
| Motor power average (kW) | 2 | 5 |
Links
Sales Manager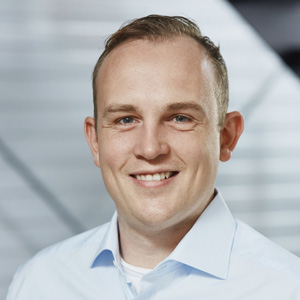 Nico Albrecht
Mass finishing, process water and blasting technology sales
+49 (0) 2129 571-225