BRA 900/1200/2500
Fast cutlery cleaning for large kitchens
Our cutlery cleaning units clean, rinse, disinfect, dry and polish your cutlery in a single work step. All items, from teaspoons to soup ladles, are washed and ready for the next service in a single, highly efficient process that requires little input from staff.
1,250 to 5,000 items per hour
That is how fast our units can clean your cutlery. The BRA 900 can clean 1,250 items of cutlery per hour, while the BRA 2500 cleans up to 5,000 items. This makes them perfect for cleaning large amounts of dirty cutlery. The items leave the machine dry and spotlessly clean, ready for the next service.
The HTS process (hydromechanical three-stage process)
This process cleans your stainless steel or silver cutlery quickly and gently in three stages: washing, rinsing and drying. Rinsing items beforehand and polishing afterwards by hand are no longer necessary.
Stage 1: Cleaning
The cutlery is cleaned in the washing bowl using Walther Trowal's own specially developed BRS 20 detergent, removing all food residues and other contaminations. The detergent was developed for use at temperatures below 40°C, and works in an energy-efficient and environmentally friendly way. You can adjust the cleaning time according to the level of contamination.
Stage 2: Disinfection and rinsing
The cleaned cutlery is now conveyed from the washing bowl to the rinsing unit, where it is rinsed and disinfected using fresh water. Your cutlery is now hygienically clean.
Stage 3: Drying and polishing
After rinsing, the wet cutlery passes through the dryer, which is filled with heated drying granules. The granules completely surround the cutlery items, leading to spotless results. At the end of the process, you can take the items straight from the cutlery basket and use them for the next service.
The benefits at a glance
Low consumption of detergent and water
Low power consumption thanks to low washing temperature
Low cleaning and maintenance workload
No pre-rinsing necessary, even for heavy contamination
Automated processes mean low staff input
Excellent cleaning thanks to use of special polishing media
Tip: Refurbishing your cutlery
Over time, cutlery always shows signs of wear and tear like scratches, scores, lime, rust and corrosion. With our trowapast process, you won't have to keep wasting money on new cutlery. A special abrasive powder, combined with water and polishing media, removes dirt and scratches to keep your silver or stainless steel cutlery, candle holders, serviette holders and other kitchen accessories sparkling.
Application Images
Technical Specifications
Machine type
BRA 900
BRA 1200
BRA 2500
Cutlery throughput rate (parts/h)
1250
2000
5000
Electric supply (V)
400
400
400
Installed power (kW)
4
12
29
Connected load (kVA)
5,5
18
37,5
Fresh water consumption (l/h)
approx. 105
approx. 210
approx. 360
Fresh water temperature (°C)
cold,
recomm. 40 °C
cold,
recomm.
40 °C
cold,
recomm.
recomm.
40 °C
Working temp. drier (°C)
> 65
> 65
> 65
Dimensions (m)
3.0 x 1.5
3.6 x 1.8
4.5 x 2.8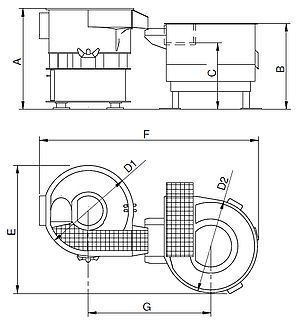 Measurement table BRA
| | BRA 900 | BRA 1200 | BRA 2500 |
| --- | --- | --- | --- |
| A | 1,044 | 1,294 | 1,520 |
| B | 886 | 1,100 | 1,270 |
| C | 680 | 855 | 975 |
| D1 | 980 | 1,162 | 1,616 |
| D2 | 978 | 1,198 | 1,652 |
| E | 1,390 | 1,840 | 2,525 |
| F | 2,350 | 2,921 | 3,910 |
| G | 1,250 | 1,700 | 2,250 |
| Dimensions in mm | | | |
Spatial requirements for switching cabinet and metering unit
| | Surface area |
| --- | --- |
| BRA 900 | 1,240 x 470 |
| BRA 1200 | 1,080 x 550 |
| BRA 2500 | 1,080 x 550 |
Links