THM continuous belt blasting unit
Outstanding blasting results with a smart transport system
To help you get the most from continuous blasting technology, we have developed a system that sets high technical standards. The belt transport system conveys your workpieces evenly through the blasting unit, where they are continuously circulated and intensively blasted. This is an effective but sensitive way to process your workpieces.
Suitable for different workpiece shapes and sizes
The THM conveyor blasting unit is a truly universal system, which allows you to process both bulk material and complex, sensitive individual parts. You can even use it to blast thin-walled workpieces. Even the rods on the belt are adapted to your workpieces. We use polyurethane for handling sensitive parts and manganese steel for standard workpieces.
Rail system ensures quick and simple maintenance
Thanks to an innovative rail system, virtually all wear zones on your workpieces are accessible. The transport system can be easily pulled out from the unit housing. This makes it easy to quickly service your THM unit and put it back into operation.
Tailored to your needs
The THM blasting units are available in a range of configurations, specifically adjusted to your needs and the size of your workpieces. Further fine adjustments can also be made thanks to the variable processing parameters, such as the belt speed, discharge velocities and blasting medium flow rate.
To ensure the optimal result for every application we have completed our range of products with our smallest THM 300/1 and our largest THM 900/4/E.
The benefits at a glance
Processes both bulk material and individual parts with different shapes and sizes
Manual or automatic workpiece feeding
Controllable processing parameters: throughput times, discharge velocities, optional blasting medium flow rate regulation
Two turbines with 7.5 to 22 kW of power, depending on the machine type (can be upgraded to up to six turbines depending on configuration)
Special turbines for aluminium blasting medium
Easy-to-reach wear zones for quick maintenance
Customised filter systems
Wide range of loading and unloading mechanisms, such as lifting and tipping units, vibrating hoppers, rotating buffer tables and refilling systems
Belt rods made from either polyurethane or manganese steel
Application Images
Technical Specifications
THM300/1
THM300/2
THM400/2
THM400/2/E
THM500
THM700
THM 900
Operating tunnel diameter (mm)
300
300
400
400
500
700
900
Quantity of chambers (pcs.)
1
2
2
3
3
3
3
Quantity of rods (pcs.)
43
43
53
53
63
76
92
Turbines quantity (pcs.)
1
2
2
2 - 3
2 - 4
3 - 4
4
Drive with FI
Direct
Direct
Direct
Direct
Direct
Direct
Direct
Power turbines (kW)
7.5
7.5
7.5
7.5 - 15
7.5 - 22
11 - 15
15
Air volume dust collector (Bm³/h)
2,000
2,500
3,000
3,000 / 5,000
3,000 / 5,000
7,500
7,500
Smallest parts size, diagonally (mm)
20
25
25
25
25
25
25
Minimum thickness (mm)
10
10
10
10
10
10
10
Largest parts size length (mm)
150
200
200
650
650
650
800
Diameter
100
100
120
250
350
450
450
- Special lenghts of infeed channel upon request
- THM special machines available upon request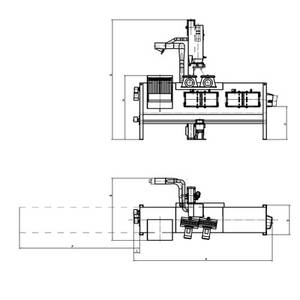 Measurement table THM
THM300/1
THM300/2
THM400/2
THM400/2/E
THM500
THM700
THM900
L
2,700
4,140
4,140
5,300
5,300
6,500
6,600
B
1,450
1,150
1,250
1,720
1,550
2,000
2,300
AV
2,500
3,860
3,860
6,400
6,400
6,750
6,750
H
4,300
4,300
4,600
5,000
4,610 - 7,000
4,550 - 5,150
4,850 - 5,150
E
2,400
2,250
2,400
2,550
2,550 - 2,650
2,220
2,520
Dimensions (in mm)
Links