BF-HL belt dryer
Contactless drying by means of hot air
The BF-HL belt dryer allows you to dry your workpieces using hot air. This procedure is particularly beneficial when your workpieces have the following characteristics:
Sensitive parts that must not come into contact with each other
Parts with tight boreholes
Long and bulky parts
Efficient drying in the tunnel
Your workpieces are transported through a heated drying tunnel on a fine wire mesh belt, which is also available in premium V4A stainless steel. The temperature and speed of the conveyor belt are both fully adjustable. Special equipment includes a high-pressure air knife, which blows the residual water out of the workpieces prior to drying, as well as an extension of the conveyor belt to make placing and removing the workpieces easier.
The benefits at a glance
Fully adjustable operating temperature
Fully adjustable conveyor belt speed
Low energy consumption thanks to excellent heat insulation (> 100 mm)
Special configuration – conveyor belt extension
Application Images
Technical Specifications
| BF-HL dryer | 350/3300 | 600/3500 | 1000/3500 |
| --- | --- | --- | --- |
| Conveyor belt: width x length (mm) | 380x3000 | 600x3200 | 1,000x3200 |
| Tunnel opening (mm) | 330 | 430 | 530 |
| Belt speed (m/min.) | 0,5–3,0 | 0,5–3,0 | 0,5–3,0 |
| Operating temperature (°C) | 140 | 140 | 140 |
| Power bowler fan (kW) | 4 | 5,5 | 2x5,5 |
| Heating capacity (kW) | 20,7 | 33,6 | 41,4 |
| Total installed power (kVA) | 28 | 42,5 | 57,5 |
| Weight, empty (kg) | 1150 | 1340 | 1800 |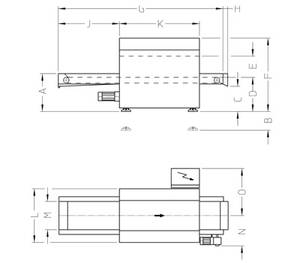 350/3300
600/3500
1000/3500
A
840
920
920
B
400
400
400
C
570
640
640
D
760
840
840
E
330
430
530
F
1,500
1580
1730
G
3,350
3550
3550
H
100
100
100
J
1,070
1250
1280
K
1,740
1740
1740
L
1,030
1350
1750
M
380
600
1000
N
520
680
880
O
910
1070
1270
Dimensions (in mm)
Links